Post Internet Art Essay Paper
PARIS — Curator Valentina Peri has made smart, cross-generational, idea-based choices when formulating her excellent group show Archéonauts, the best of the Paris season. Citing Michel Foucault's Archeology of Knowledge, the Siegfried Zielinski essay "Deep Time of the Media," and Jussi Parikka's book What is Media Archeology, Peri has created (or identified) something ambitious: the archetype of a wayfarer physically moving back and forth between west and east while surfing on the internet. This multidimensional traveler, who also crosses between the past and the present, is identified by, and possesses, what Peri calls the archeological gaze.
If you don't gaze at but glimpse her show's title, Archéonauts, you might first think, as I did, of Greek argonauts — which is not too far off. Peri made up the word "archéonauts," as she explains in her catalogue essay, by combining "archeology" with a word meaning "seafarers" in ancient Greek. The first component (archaios) articulates a dominating antiquity, and the second (nautes) refers to travel, be it a journey across the universe (astronauts), through the seas (argonauts), or in cyberspace (internauts).
All the works in this show exemplify some aspect of media archeology. Insofar as the archeological method implies excavating the past, Peri has chosen art with a media-ghost aspect to it, because she sees the distinction between past and present as being broken down under the pressure of networked technology, exploding what was once the continuity of the contemporary.
Against this conceptual backdrop crackles London-based Quayola's dark luxuriant fractal-looking images: sumptuous spider-web-y riots that leave you unsure where to look first. Made with custom software written by Nikolai Matviev, they produce a feeling of consummate ease of execution, even while assembling an obscure and complex flurry of ocular connections. The software's computer-vision algorithms remove the iconographic narrative from classical religious/mythological paintings by extracting certain visual characteristics and transforming them into complex computational digital drawings sharply engraved into black anodized aluminum the color of Beluga caviar. Accordingly, Quayola fuses two forms of visual language, baroque representation and minimalist abstraction, confusing their motifs. For example, "Iconographies #44: Judith and Holofernes after Guido Reni" (2015) collapses the space between two extremes: the baroque constructed imagery and flat optic connections. Even as those spaces resist being collapsed, the software overthrows, destroys, and obscures the classic iconographic theme of Judith and Holofernes, where a clever courageous woman frees her people by decapitating the invading general Holofernes (a defender of the godliness of Nebuchadnezzar II) after having seduced him. Each of the four Quayola works create a slightly different delirium of tensions and equilibriums in this regard, competing with each other in respect to the degree of collapse of the figurative into the abstract, but all delve beneath the iconographic layer to propose proxy versions detached from the narrative.
In the same downstairs gallery, Peri placed works from the Material Speculation: ISIS series (2015–16) by Iranian American media artist/activist Morehshin Allahyari. This is part of her digital 3D-printing project that addresses issues of plastic, oil, techno-capitalism, and jihad. The project reconstructed 12 statues from the Roman city of Hatra and Assyrian artifacts from Nineveh that were destroyed by ISIS in 2015. As I studied the small beautiful resin "Material Speculation: ISIS – Marten" (2015–16), an embedded flash drive and memory card became visible, containing research on the lost original in the form of images, maps, and PDFs. The piece provoked feelings of sweet longing, sadness, and compassion. Also in that room, Eduardo Kac, a pioneer of telecommunications art, brought serendipitous grandeur and theatricality to the little screen with his animated minitel "Reabracadabra" (1985/2015), a short poem loop first shown in 1985 in São Paulo as part of the group exhibition Arte On-Line presented by Companhia Telefônica. In it, a large 3D "A" appears from a green pyramid, small white consonants hover around it, then all goes black. Though "Reabracadabra" riffs off the magical incantation Abracadabra, nothing magical happens in the piece, but it's still delightful and historically significant.
Most post-internet art revels in crappiness, but upstairs we encounter that which is elegant. Evan Roth arrived at his austere "Silhouette" (2015) adventitiously, by searching his archived web browser cache history. Using the same 18th-century cut-paper silhouette technique as Kara Walker, Roth transformed nine browser windows into a delicate, complex image array. Stripped of web context and color, "Silhouette" has a stark but expressive pizzazz, and it is as satisfying as a high-quality El Lissitzky "Proun" (1919–27). The piece struck me as a multilayered meditation on all that has been imperiled, exalted, and made precious.
Making the opposite point in the general spirit of Alan Belcher's media-based sculptures is Roth's rumpled bundle "Forgetting Summer" (2017), which crushes (by industrial compactor) his printed browser history into a spit-wad the size of a newborn hippo. It makes a good punk point of trashing the past while recalling nouveau-réalist sculptor César Baldaccini's rectangles of compressed consumer objects.
Renowned media artists and interactive art pioneers Laurent Mignonneau and Christa Sommerer's crass "Egometer" (2017) mocks themselves (and any artist) through a sophisticated form of kitschification. The piece consists of an antique ammeter they modified by adding sensors that measure users' body data. As an ego level is indicated on a scale between 0 and 100, a din is heard, and one flushes with embarrassment.
The other collaborative group, Nicolas Maigret, Clément Renaud, and Maria Roszkowska, is smartly presented. Their "Shanzhai Archeology" (2016–17) is on the floor in black carrying cases, displayed like a fugitive street-merchant's wares. I looked down on a monitor and three examples from their collection of quaint-looking hybrid mobile phones from China: examples of their Shanzhai Archeology project, which investigates the recombinatorial counterfeit consumer goods phenomenon known as shanzhai. Often disparaged as mere substandard forgeries, these objects suggest unusual technological trajectories that (literally) comply with no European standards.
As amassed by Peri, these distinctive contributors create a non-didactic psychic space that is extensively thought-provoking while still being enjoyable to explore. I drifted in a subjunctive archeological daze through multiple moods of scale and space-timelines, guided by the camaraderie of art rich in topical analogies, diligently cracking open the past to release new futures.
Archéonautscontinues at Galerie Charlot (47 Rue Charlot, 3rd Arrondissement, Paris) through June 3.
comments ()
Could it be? Are we already post-Internet?

It's a bemusing term you may have heard floating around the art world recently, and now a new exhibition called "Art Post-Internet" at Beijing's Ullens Center for Contemporary Art—organized by critic/curator Karen Archey with writer/gallerist Robin Peckham—has set out to encapsulate the budding movement, which may be the most significant of its kind to emerge in a while. The key to understanding what "post-Internet" means is that, despite how it sounds, it doesn't suggest that the seismic technological developments associated with the Net are finished and behind us. Far from it.
Instead, in the same way that postmodern artists absorbed and adapted the strategies of modernism—fracturing the picture plane, abstraction, etc.—for a new aesthetic era, post-Internet artists have moved beyond making work dependent on the novelty of the Web to using its tools to tackle other subjects. And while earlier Net artists often made works that existed exclusively online, the post-Internet generation (many of whom have been plugged into the Web since they could walk) frequently uses digital strategies to create objects that exist in the real world.
There are already a handful of artists and galleries that are closely linked to post-Internet art, and curators are aiming to sum up the way these artists reflects our new relationship to images and objects inspired by the infinitely variable culture of the Web. What follows is a summary of some of the major figures associated with the emerging world of post-Internet art.
ART & LANGUAGE & TUMBLR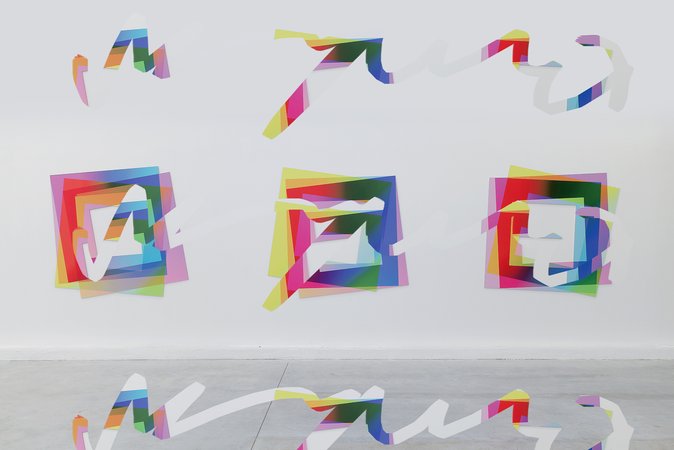 Artie Vierkant's Image Objects, 2011 – ongoing
Artie Vierkant's 2010 essay "The Image Object Post-Internet" sparked much of the recent conversation surrounding art after the Internet. In it, Vierkant, an artist himself, surveys the way we engage with images in the post-Internet era, when they can be shared, reproduced, altered, and distributed more easily than ever before in human history. His argument is that in the pre-Internet days, it was difficult to effectively reproduce an artwork because the photographic, scanning, display, and printing technologies we have now simply didn't exist yet; now, the opposite is true. To highlight this shift, Vierkant refers to his own work—Technicolor sculptural pieces he makes with photographic means—as "Image Objects," referring to their ephemeral and infinitely reproducible nature.

Vierkant's essay is preceded by a number of other projects that, themselves, range widely in content, form, and style. The influential blog The New Aesthetic, run since May 2011 by writer and artist James Bridle, is a pioneering institution in the post-Internet movement. The blog's heady take on online visual culture, imagined as a view of the contemporary from a robot's perspective (a conceit that is quickly becoming more akin to reality than science fiction), has led to a slew of responses, both online and "IRL" (as they say), including a panel discussion at the SXSW in 2012 and the book New Aesthetic, New Anxieties, a critical response to the discussion around the movement. Much of the energy around the New Aesthetic seems, now, to have filtered over into the "post-Internet" conversation.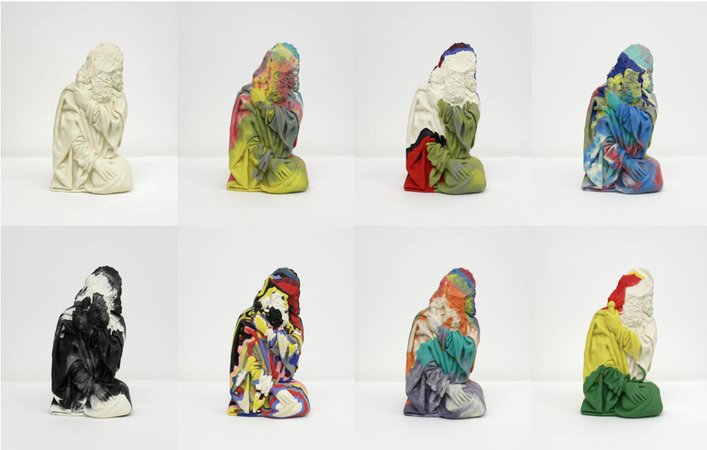 A sculptural work from Oliver Laric's Icon (Utrecht) project, ongoing


Another artist associated with the post-Internet label, Oliver Laric makes work concerned with the Internet-wrought phenomenon of collective authorship and the effacement of the distinction between the real and the fake. In his videos and image-based pieces, Laric displays material he finds online as his own work and invites others to remix, reuse, and re-present it via YouTube and other online channels. Like Vierkant, Laric's work also extends to discursive projects: he used to run the highly influential website VVORK (with fellow artists Aleksandra Domanovic, Christoph Priglinger, and Georg Schnitzer), which set examples of recent artwork in one-to-one comparisons with historical pieces, all sourced online.
POST-INTERNET, BUT STILL ONLINE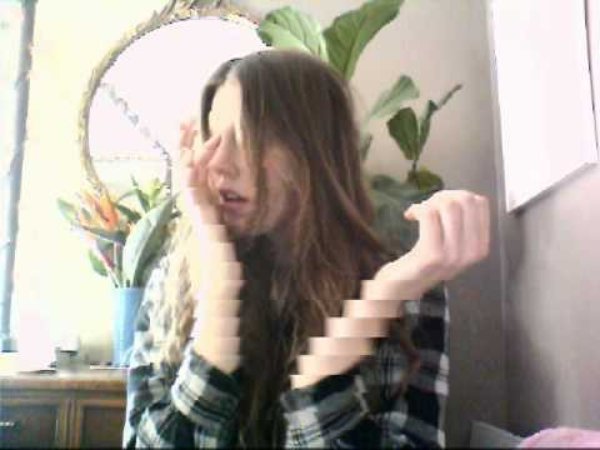 Petra Cortright's Self Portrait, 2011
While writers, bloggers, critics, and curators attempt to get a handle on post-Internet art, artist keep trucking along, doing their own thing both online and off. Los Angeles-based Petra Cortright is representative of the many artists who make work specifically for online formats, creating animated GIFs, YouTube videos, and labyrinthine web pages that, in combination, present her compelling take on the newest aesthetic trends—while also somehow managing to treat current visual culture with nostalgia, emblematic of the Net age's constantly-updating, blink-and-you'll-miss-it progressions. Other Web-based projects that investigate how images operate online include Jon Rafman's popular Tumblr project 9 Eyes, for which the artist spends hours sifting "step-by-step" through Google's Street View function to find surprising, resonant, or simply beautiful stills that have accidentally been captured by the Google car's 9-lens, 360-degree camera.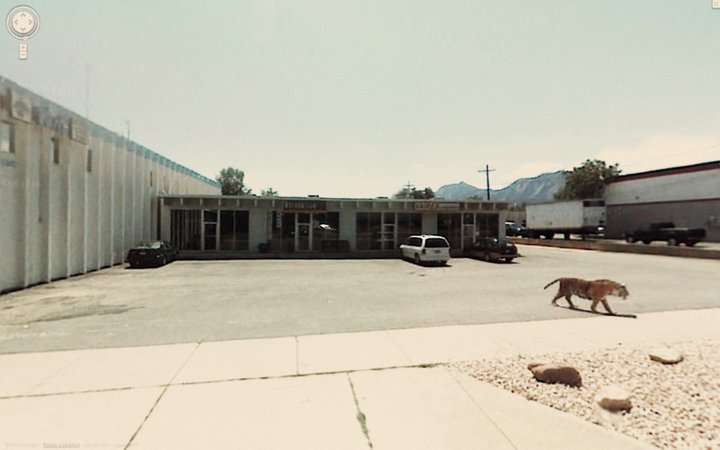 Jon Rafman's 9 Eyes, ongoing
Of course, both Cortright and Rafman also produce real-world artworks, objects that can be hung on the wall or placed on a plinth in a gallery; the most counterintuitive aspect of the post-Internet label is that it extends to work in the traditional formats of painting and sculpture. In fact, one of the features that distinguishes post-Interent art from the "Net Art" of the late '90s and early 2000s is its ability to crossover between online and offline formats. While Net Art refers to art that uses the Internet as its medium and cannot be experienced any other way, post-Internet art makes the leap from the screen into brick-and-mortar galleries.
ART AFTER "NET ART"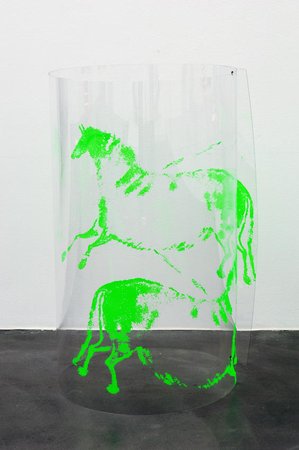 Seth Price's Double Hunt, 2007, a replica of a cave painting from the famous Lascaux caves in France screen printed onto a sheet of PVC
Seth Price, for example, is a post-Internet artist whose inkjet prints, vacuum-formed assemblages on high-impact polystyrene, and multiple iterations of the 'same' artwork with only slight variations question the status of objects within 21st-century media's distribution systems. Price has also attempted to manifest the viewing experience of YouTube in real gallery space, as in his 2011 show at New York's Petzel Gallery, where he installed his videos on monitors within individual viewing booths with video playback controlled by the viewer—harkening back to the viewing devices of the early days of cinema and the return to solitary viewership that the internet has brought on.
Cory Arcangel might be the best-known artist associated with post-Internet art that physicalizes immaterial digital structures—and he's certainly the only one to have had a solo exhibition at the Whitney at the age of 33. Arcangel is celebrated for his modifications of popular video games, a series of which were on view in that show; he also reuses appropriated gradient patterns from Photoshop, YouTube videos, and other bits of digital pop culture to craft prints, drawings, musical compositions, videos, and performance works.

The transmutation of art that's based on the Internet from online-only platforms to materializations in real life leads to an interesting question: what will this work look like 100 years from now, when the technologies that these artists are using, commenting on, and imitating either no longer exist or have been radically transformed? Only time will tell. Post-Internet art is distinctly of the now; and that quality, so far, is its most definitive feature.
RELATED ARTICLES:
The Artists Have Been Set Free: Post-Internet Star Joshua Citarella on How the Web Can Disrupt the Gallery System
Secrets to Post-Internet Success From DIS's Scary Berlin Biennale
Post-Internet Phenomenon Nicolas Party on the Importance of Painting Cats in the Digital Age
The Early Disruptors: 7 Masterpieces of '90s Net Art Everyone Should Know About
[related-works]