Spies In The Civil War Essays
The links on this page will lead you to internal and external resources about women and the Civil War in general, with a focus on women in Maryland. Most of the links listed here provide access to databases, research guides, essays, bibliographies, or digitized primary source collections that are freely accessible on the web without the use of a subscription service. Some of the links below are sites associated with local historic places to visit in order to feel first-hand feel how the war impacted women.
Beware of simply doing a Google search or even using Wikipedia as a source. Many sites that a Google search will link you to may turn out not to be credible and may even give you incorrect information. Most professors will not allow you to cite Wikipedia in a paper. However, Wikipedia is a good launching point if you use it to look for sources and references at the bottom of the entry. You should investigate websites for authenticity by checking who their sources are. If you're uncertain about any website, check with your professor before using it as a source. If in doubt, don't use it.
American Women's History: A Research Guide, The Civil War Period

Provides citations to print and Internet reference sources, as well as to selected primary source collections.

Antietam National Battlefield

The National Park Service official website for Antietam National Battlefield in Sharpsburg, Maryland.

The Civil War: Women and the Homefront

Guide to print and manuscript materials at Duke University related to women and their roles in the Civil War.

Civil War in the American South

Civil War in the American South provides a central portal to access digital collections from the Civil War Era (1850-1865) held by members of the Association of Southeastern Research Libraries (ASERL).

Civil War Washington

Civil War Washington examines the U.S. national capital from multiple perspectives as a case study of social, political, cultural and medical/scientific transitions provoked or accelerated by the Civil War. The project draws on the methods of many fields—literary studies, history, geography, computer-aided mapping—to create a digital resource that chronicles the war's impact on the city.

Clara Barton's Home

The National Park Service official website for the Clara Barton National Historic Site in Glen Echo, Maryland.

Crossroads of War: Maryland and the Border in the Civil War

An interactive website created by the Catoctin Center for Regional Studies, a collaborative project of the National Park Service and Frederick Community College in Frederick, Maryland.

Essential Civil War Curriculum

"Written and peer reviewed by today's foremost Civil War historians, the Essential Civil War Curriculum contains essays, bibliographies and other resources on the 400+ topics which constitute the basic knowledge that should be possessed by any serious student of the Civil War." Search "women" in the search box. Essays include: "Gender and the Civil War" and "Civil War Widows."

Freedmen and Southern Society Project

A project to document slavery and emancipation in the United States. Some primary source documents are transcribed online. Others are available in a projected nine-volume work.

H-Women Civil War Women as Men Bibliography

Brief bibliography of sources related to the topic of women who dressed as men during the war, including lesbian resources.

H-Women Women as Civil War Spies Bibliography

Brief bibliography of sources related to women spying during the war.

Hearts at Home: Southern Women in the Civil War

Online exhibition by the University of Virginia Library's Special Collections department. Through letters and diaries, photographs, newspaper accounts, and personal mementos, Hearts at Home examines different aspects of southern women's experiences at home and on the battlefield during the Civil War.

Historical Census Web Browser

Population and economy data from the census for U.S. states and counties from 1790 to 1960. This database was created at the University of Virginia.

Intelligence in the Civil War (PDF)

Official CIA publication detailing the work of prominent spies during the Civil War, including Rose O'Neal Greenhow and Harriet Tubman.

The Legacy of Slavery in Maryland

A project by the Maryland State Archives on the history and legacy of slavery in the state. Includes an extensive database of names of enslaved individuals and slave owners complied from census records, court records, manumissions records, and other primary source documents.

Maryland Civil War Trails

Official site of the Maryland Civil War Trails program, which marks and documents sites of historical interest pertaining to the Civil War in Maryland.

Maryland History and Culture Bibliography

A bibliography listing citations only (no full text) to books, articles, and dissertations on Maryland topics relating to history and culture. Search by the subject category "women" or enter a specific name or subject term to search.

Maryland State Archives Museum Online

Links to online exhibits created by the Maryland State Archives. Includes exhibits on Thomas Holliday Hicks, governor of Maryland during the Civil War, and on "A RECORD OF HEROISM: The Maryland State Fair for U.S. Soldier Relief, April 19, 1864 -April 30, 1864."

Maryland Women's Hall of Fame

Brief biographies of women who have been voted into the Maryland Women's Hall of Fame, including Clara Barton, Harriet Tubman, and Anna Ella Carroll.

Maryland Women's Heritage Center

The Maryland Women's Heritage Center promotes knowledge about the contributions and experiences of Maryland women throughout the state's history.

Memorable Days: The Emile Davis Diary

Emilie Davis was an African-American woman living in Philadelphia during the U.S. Civil War. This website is a transcription of Emilie's three pocket diaries for the years 1863, 1864, and 1865. In them, she recounts black Philadelphians' celebration of the Emancipation Proclamation, nervous excitement during the battle of Gettysburg, and their collective mourning of President Lincoln. The diary allows readers to experience the war in real time, as events unfolded for Civil War Americans.

Monocacy National Battlefield

The National Park Service official website for the Monocacy National Battlefield outside of Frederick, Maryland.

Rose O'Neal Greenhow Autobiography

UNC at Chapel Hill's full text of Greenhow's memoir "My Imprisonment and the First Year of Abolition Rule at Washington." Greenhow was a Washington socialite and Confederate spy. She was born in Maryland.

Selected Online Works by Civil War Era African American Women

This document compiles the historic full text of works, now available in digital format and free, written by and about African American women who lived during the U.S. Civil War. Multiple full text versions are provided to allow users to choose the version that best displays on their electronic device.

The selected works were digitized primarily from the collections of the Library of Congress, the Schomburg Center for Black Studies New York Public Library and University of North Carolina at Chapel Hill. The document is arranged by type of work and includes autobiographies, biographies, children's books, novels, poetry, speeches and more. Reprint editions frequently contain additional information about the authors and the works. Multiple Library of Congress reprint catalog records are listed to maximum the potential for additional information. Images of the authors also are listed, when available.

Shades of Gray and Blue

New digital project to document the Civil War in Tennessee. Includes some information and primary sources about women's experiences, specifically in the "Holding Fast to Beauty" section. This project is still under construction.

Ten Common Myths about Women in the Civil War

This essay is by Jane E. Schultz Professor of English, American Studies, and Women's Studies at Indiana University-Purdue University-Indianapolis and author of Women at the Front: Hospital Workers in Civil War America (2004)

The Valley of the Shadow Project

This digital project documents life in two separate counties during the Civil War: Franklin, Pennsylvania, and Augusta, Virginia. These two communities serve as a model for everyday existence in the North and the South. Powered by the University of Virginia.

Women on the Border: Maryland Perspectives of the Civil War

Online exhibition by the University of Maryland Libraries Special Collections. This exhibition focuses on the lives and experiences of ordinary women living in the state of Maryland during the war, using letters, diaries, photographs, sheet music, rare books, and other special collections materials as sources.
Women played many roles in the Civil War. They did not sit idly by waiting for the men in their lives to come home from the battlefield.
Many women supported the war effort as nurses and aides, while others took a more upfront approach and secretly enlisted in the army or served as spies and smugglers.
Whatever their duties were, these new jobs redefined their traditional roles as housewives and mothers and made them an important part of the war effort.
Women Spies:
Although the exact number is unknown, it is speculated that hundreds of women served as spies for the Confederate and Union armies in the Civil War.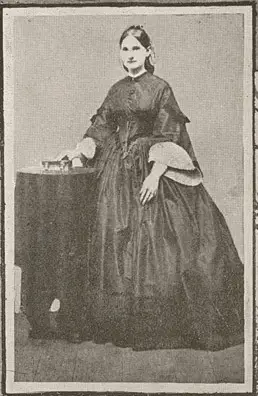 Confederate spy Emeline Pigott
Women spies usually gathered valuable military information by flirting with male soldiers at parties, dinners or other social events.
These women also smuggled supplies, ammunition and medicine across enemy lines by hiding them underneath their large hoop skirts.
One Confederate spy, Emeline Pigott from North Carolina, gathered military information by entertaining Union soldiers at dinner parties in her home.
Pigott then passed along this information to the Confederate army by leaving messages in secret hiding spots or by crossing enemy lines and hand-delivering them, according to the National Women's History Museum website. Like many spies, the Union army quickly caught onto Pigott and she was arrested and sent to jail.
Women Nurses:
Between 2,000 to 5,000 women volunteered as nurses during the Civil War. According to the book Women in the Civil War, so many women eagerly volunteered for the job, they earned a nickname from the press:
"The press soon dubbed them the 'Florence Nightingales' of the Union or the Confederacy, and one editor, impressed by the number rushing into hospitals, proclaimed, 'All our Women are Florence Nightingales.' This unexpected development was significant not only because of the numbers involved but also because it represented a radical departure from American tradition."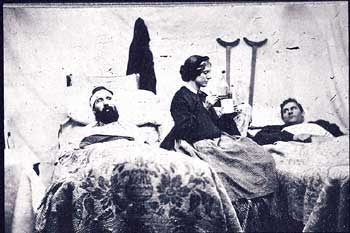 A Civil War nurse attending to two injured soldiers
Nursing was a gruesome job that provided an up close look at the horrific casualties of the war.
Civil War nurses cleaned and bandaged wounds, fed soldiers, dispensed medication and assisted surgeons during operations and medical procedures like amputations.
One of the most famous nurses of the Civil War era was Clara Barton. Barton, who worked as a clerk in the U.S. patent office when the Civil War broke out, began to show up at local battlefields armed with medical supplies, which she used to nurse sick and wounded soldiers, eventually earning her the nickname "Angel of the Battlefield." Years later in 1881, this experience inspired Barton to found the American Red Cross.
Women War Relief Workers:
Many women participated in war relief efforts, such as sewing circles where they made clothing for soldiers or they held charity drives where they gathered food, medical supplies and bedding for local military encampments and hospitals.
Women also raised money through fundraisers and charity events such as the Sanitary Fair in Chicago in 1863. These fairs were held all around the country and raised funds for much needed medical supplies and equipment by auctioning off donated items.
Women Soldiers:
Even though women were forbidden to join the military at the time, over 400 women served as soldiers in the Civil War. A handful of these women even fought in many famous Civil War battles such as Gettysburg and Antietam.
Secret soldier Sarah Emma Edmonds
In order to enlist, these women disguised themselves as men and adopted masculine names. During an interview with NPR, the author of They Fought Like Demons: Women Soldiers in the Civil War, Deanne Blanton, stated that secret soldiers often shared a similar background:
"'The women who went to war,' she says, 'who disguised themselves as men and carried a gun, were overwhelmingly working-class women, immigrant women, poor women, urban women and yeoman farm girls.'"
Their disguises were so convincing that the women were often only discovered by accident while being treated for injuries or illnesses.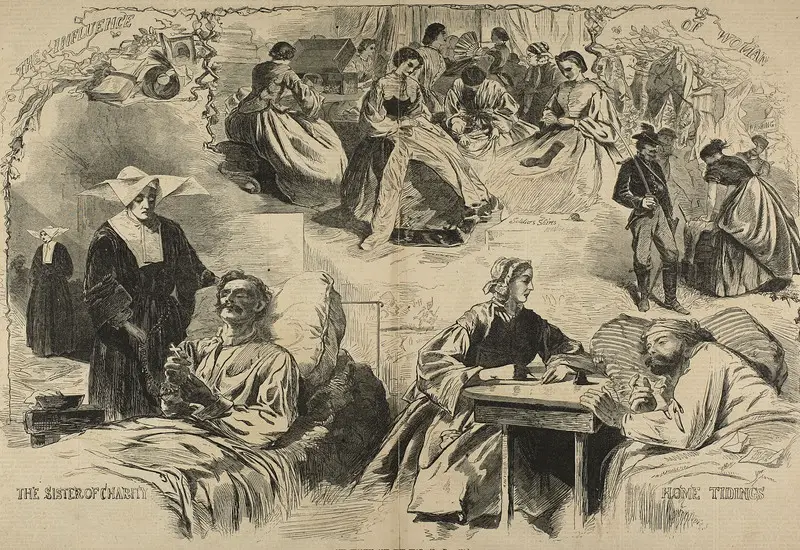 "Our Women in the War", Wood Engraving on Paper by Winslow Homer, Published in Harper's Weekly in Sept 1864
One female soldier, Mary Owens, served under the alias John Evans for 18 months before her identity was discovered during treatment for a wound on her arm. Upon discovery, Owens was promptly sent back home to Pennsylvania.
After the Civil War ended in 1865, many of the women went back to their traditional roles in society and became wives and mothers.
Some of these women later shared their wartime stories with others by publishing their war diaries and memoirs, while others kept their stories to themselves as they tried to readjust to life as a woman in post-Civil War America.
Sources:
NPR; In Civil War, Woman Fought for Freedom Like a Man; Linda Paul: www.npr.org/templates/story/story.php?storyId=104452266
National Women's History Museum: www.nwhm.org/
Stealing Secrets: How A Few Daring Women Deceived Generals, Impacted Battles, And Altered the Course of the Civil War; H. Donald Winkler
They Fought Like Demons: Women Soldiers In The Civil War; Dee Ann Blanton
Women In The Civil War; Mary Elizabeth Massey